UCA Welcomes Alumni and Friends Home
November 19, 2016

Posted by:

Bob Lenz

Category:

Gleaner
Eric Johnson, UCA vice principle for development and alumni relations, welcomes Brenda Robinson (left) and Clyde and Lou Sample to the alumni homecoming weekend. Credit: Tim Kosaka
---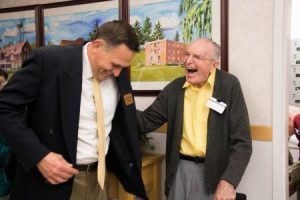 Alumni Homecoming Weekend 2016 welcomed Yakima Valley Academy and Upper Columbia Academy (UCA) alumni to the campus in Spangle, Wash., this past October. Former students from the academies fellowshipped together at the annual reunion, during which classes ending in 1 and 6 were honored.
The weekend included stories from various alumni. The keynote speaker was Kerry Heinrich, CEO of Loma Linda (Calif.) University Medical Center and a 1976 UCA alumnus.
An offering was taken for the worthy student fund. "We truly appreciate the generosity of everyone who gives to allow so many of our students to be here," John Winslow, UCA principal, told attendees. "This school would not be possible without you."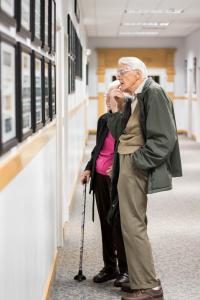 This year, there were some unique features for the weekend. Friday evening, the digital senior composites were unveiled and dedicated. Linnea Torkelsen, former UCA alumni director, shared how the senior composites were once displayed in a case attached to the wall almost like a book. "Over the years, the collection was moved through different buildings as it became larger and more difficult to display in book form. Finally, decades later, one can wander through the halls and enjoy the entire collection," she explains. The digital senior composites can be viewed online.
Kaelyn Plata, from the class of 2016, shared a Revelation-themed canvas oil painting on Sabbath that she created to hang in Fred Riffel's Bible classroom. "Something that makes this gift so remarkable," Eric Johnson, vice principal of development and alumni relations, shares, "is that this was her first oil painting ever. God has given Kaelyn a great gift, and we're thrilled that she's chosen to share this gift with our school." You can view Kaelyn and her painting on Facebook.
UCA's band and orchestra shared a number of selections under the direction of Dean Kravig. Curtis Anderson, UCA music department chair, directed a reunion choir that included both past and present Choraliers members.
The final alumni homecoming weekend event happened Sunday morning with an alumni/current student flag football game. "It was nice seeing everyone playing together and having a good time," says Joe Hess, UCA mens' dean and vice principal for student life.
Alumni Homecoming Weekend 2017 is scheduled for Sept. 29 to Oct. 1. The honor classes will end in 2 and 7.
For more information about UCA or alumni programs, visit www.ucaa.org.
---
Timothy Kosaka
Upper Columbia Academy communication taskforce for the 2016–2017 school year