UCA Academy Day Offers Fun, Education
July 18, 2016

Posted by:

Bob Lenz

Category:

Gleaner
The UCA Academy Day Knowledge Bowl winners created their team the day of the event. They won and received a UCA scholarship. Credit: Tamara Terry
---
Upper Columbia Academy (UCA) Academy Day was literally a hair-raising experience this year as students had the opportunity to touch a Van de Graaff generator at one of the stations. Almost every teacher had a quiz or activity to provide the students a hands-on experience. The yearbook class even gave visitors some of their student photography as prizes.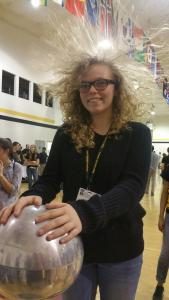 The schedule for Academy Day, on April 7, 2016, was modified this year so the Knowledge Bowl finale could be held in the gymnasium for everyone to see. A random team of students who hadn't met before won the Knowledge Bowl along with a UCA scholarship. "We've had several years where random teams have won," says Joe Hess, UCA men's dean and vice principal for student life. "Just shows it pays to sign up."
Held every spring, Academy Day provides prospective students the opportunity to tour the campus, attend classes, hear music department performances, see a gymnastics show and visit "teacher tables" with activities, quizzes, scholarships and prizes.
Adults can also attend a finance seminar and learn about a variety of scholarship opportunities to assist with tuition and boarding expenses.
"You don't have to wait until the next Academy Day to visit our campus, though," adds John Winslow, UCA principal.. "Just give us a call, and we'd be happy to give you a tour."
Click here to see more photos of Academy Day by Parker Bailey.
UCA is now accepting applications for students in grades nine to 12 for both boarding and day students. Fall classes begin Aug. 22.
---
Tamara Michalenko Terry
Upper Columbia Academy communication coordinator
Tamara Terry has also written for the Gleaner as a freelance writer in Spokane, Wash.