This Week@UCA April 5-11, 2019
April 4, 2019

Posted by:

Krista Mikkelson

Category:

This Week @ UCA
Dear UCA Family,
Friday Morning Prayer Time
As you may have noticed, Monday Morning Prayer Time has been moved to Friday. It will still begin at 8:00 a.m. and will meet in the lobby of the Ad Building. If you are on campus, we would love to have you join us. If not, please pray for us wherever you are. This week we are praying for the upcoming Academy Days and Adolfo and Carol Ochoa.
Academy Days
If you know a student who would like to attend UCA, Academy Days is the perfect time to get connected!  Visit us on April 11 and 12 and experience life on our campus.  Attend a class, meet the teachers, stay in the dorms, and eat in the cafeteria.  There will be a mini concert by our music groups, and a performance by Acro Soul, our gynmastics team.  Online registration is available now.  Donivan Andregg, VP for Admissions, would be happy to get in touch with students and families.  You can reach him at (509) 245-3680 or email him at donivan.andregg@ucaa.org.  Check out and share the following information: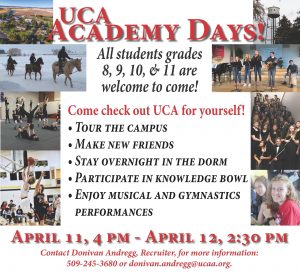 WWU Days for Seniors–Message from Emily Muthersbaugh, Director for Marketing and University Relations
Seniors—We are excited to host you at Walla Walla University's upcoming April U-Days for academies in the pacific northwest. Our U-Days schedule is up online now and we encourage students and their parents to look through the schedule and pick out the interest sessions, scholarship sessions, and more that you want to take advantage of while you're on campus. April U-Days is a great opportunity to learn more about areas of study you're interested in, get a feel for college life, and win free scholarship money, and we don't want you to miss it! Find the April U-Days booklet online at wallawalla.edu/udays. Feel free to adjust as you see fit and let me know if you have any questions or concerns!
Emily Muthersbaugh, Director for Marketing and University Relations
Walla Walla University | 204 S. College Ave. | College Place, WA 99324
T: (509) 527-2656 | F: (509) 527-2397 | E: emily.muthersbaugh@wallawalla.edu Facebook: WWU on Facebook
Documents
Looking Ahead
April 7-9                                WWU Days for Seniors
April 11-12                             Academy Days
April 14                                  ASB Spring Party
April 17-21                            Music/Acro Soul Tour
April 28                                 Sunday School
April 28                                 UCA Gala, Fernando Orgeta Concert
April 28-May 1                     Marine Biology Trip
May 1-5                                  Home Leave
May 6-11                                Spring Week of Prayer