Social Media Helps Students Attend UCA
October 26, 2015

Posted by:

Bob Lenz

Category:

Gleaner
Judy Castrejon, (on the right) UCA science teacher, helps Elliott Fulbright, senior, complete her registration paperwork. CREDIT: WENDY URBIN
---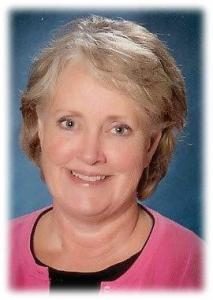 It was a simple Facebook post this summer: "Upper Columbia Academy (UCA) registration opens tomorrow morning at 8 a.m. There are TWENTY kids who are on the 'Waiting for a Miracle' list. Total financial miracle needed is $65,000 that must be committed before they can move into the dorm. Two families are waiting by the phone to see if we get the funds … several are coming on faith and waiting outside the business office to be told if they can register … ."
Linnea Torkelsen, UCA alumni and development director, created that post knowing we have a God who is able to do more than we could ask or think, as well as generous alumni and friends who believe in UCA. For the next two days, she was glued to her phone and computer, updating the total giving as alumni challenged each other, made matching pledges and invited friends to get involved with them.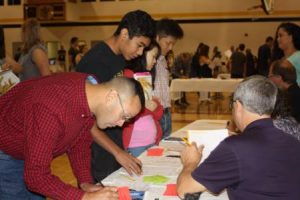 Torkelsen posted on Aug. 24, "As of 5 p.m. this evening — 44 hours after we began, we have reached our goal of $65,000. … I stand in awe of our big God and the partners He has. THANK YOU for your prayers, for encouraging others to give, for giving sacrificially yourselves … and for caring about making it possible for God's kids to have a superb Adventist education at Upper Columbia Academy!"
"It was exciting to see the energy this Facebook blitz generated. I loved the comments that people posted. My favorite was from a young alumnus who said she was going to donate on a monthly basis to help a student because she had once been on that 'Waiting for a Miracle' list a few years before," Torkelsen says.
UCA currently has 239 students, with the majority living in the dormitory residences. "We know our parents willingly sacrifice to have their child attend UCA, and we take that responsibility seriously," John Winslow, principal, explains. "We have a wonderful staff totally dedicated to enriching each student physically, mentally and spiritually, and we consider each one family."
That family extends beyond the campus, as each student is given a volunteer prayer guardian who commits to pray for him or her on a regular basis. This ministry, called Prayer PATCH, was created by Sue Patzer when her husband, Jere, was president of the Upper Columbia Conference and has continued for more than 20 years. Some prayer warriors choose to remain anonymous. Others reach out and make connections that last a lifetime. Either way, the power of prayer is at work on the UCA campus.
If you would like more information about UCA, how you can help students in need or the Prayer PATCH program, please email info@ucaa.org, call 509-245-3600 or visit ucaa.org.
---
Tamara Michalenko Terry
Upper Columbia Academy communication coordinator